the Intersection erkundet eine kühne und hoffnungsvolle Vision der Zukunft. Der Film von Superflux spielt in der nahen Zukunft und führt von einer gewalttätigen Gegenwart zu einer kooperativen Zukunft. Er erzählt Geschichten aktiver Hoffnung von Menschen, die dafür gekämpft haben, extraktive Technologien neu zu denken, der Gemeinschaft zu dienen, die Natur zu unterstützen und planetarische Beziehungen zu schätzen. Beeinflusst von Ken Burns' Dokumentarfilm The Dust Bowl, ist der Film in einer möglichen Zukunft angesiedelt, einige Jahre nachdem die moderne Technologie die wachsende soziale und wirtschaftliche Ungleichheit, sowie jene zwischen Menschen unterschiedlicher Herkunft, auf ein kritisches Maß gebracht hat. Die Geschichte zeigt verschiedene Protagonist*innen, die individuell von ihren vergangenen Erfahrungen mit moderner Technologie berichten und ihren Platz in der Zukunft, in der sie jetzt leben, erkunden. Wir hoffen, dass dieser Film die Zukunft der "Ambient Technology" greifbarer macht, uns dazu anregt, unsere Beziehung zur Technologie zu untersuchen und uns ermutigt, auf eine gerechtere, pluralistische Welt hinzuarbeiten, die die Erfahrungen der am meisten Ausgegrenzten unter uns in den Mittelpunkt stellt.
Biography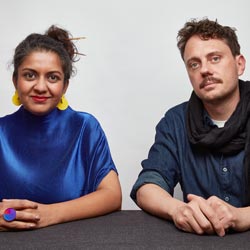 Superflux creates worlds, stories and tools that provoke and inspire us to engage with the precarity of our rapidly changing world. Founded by Anab Jain and Jon Ardern, the studio has gained critical acclaim for producing work that navigates the entangled wilderness of our technological, political and cultural landscape. The studio has produced impactful futures work for clients like Google AI, UNDP, IKEA, Cabinet Office UK and exhibited at MoMA NY, V&A Museum, and La Biennale di Venezia.
Credits
Commissioned by Eshanthi Ranasinghe, Julia Solano, Nicola Allred (Omidyar Network)
Strategy & Creative Direction: Jon Ardern, Anab Jain
Film Direction: Anab Jain, Matthew Edgson, Jon Ardern
Production: Matthew Edson, Lizzie Crouch, Nicola Ferrao, Ed Lewis, Nicò Fioritti, Leanne Fischer, Natalia Dovhalionok
Research: Aarathi Krishnan, Yuebai Liu, Jay Owens, Justin Pickard, Ronda Zelezny-Green
Funded through the STUDIOTOPIA project. STUDIOTOPIA is co-funded by the Creative Europe Program of the European Union.