Ein dreistöckiges Gebäude. Lange Gänge. Fast leer. In seinen Fluren und Schlafräumen waren früher zahlreiche lateinamerikanische Soldat*innen untergebracht, die von der Regierung der Vereinigten Staaten zur Gewalt erzogen wurden. Die Klassenzimmer der School of the Americas brachten mehrere der brutalsten Diktatoren Lateinamerikas und eine systematische Aggression hervor, die sich über den gesamten Kontinent ausbreitete.
Heute befindet sich in den Mauern der Schule ein Hotel, dessen Geschichte sich nur schwer in Worte fassen lässt. Künstliche Intelligenz – gefüttert mit militärischen Handbüchern, Archivbildern, der Architektur des Hotels und dem umgebenden Dschungel – schwingt mit der Vibration von Mauern, die sich erinnern. Eingetaucht in die Erinnerungen, die in diesen Mauern gefangen sind, wird eine Künstliche Intelligenz eine Reise durch die Empfindungen und Erinnerungen der Mauern unternehmen.
Biographies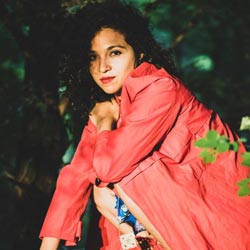 Panamanian multidisciplinary artist. She has been artist-in-residence at Le Fresnoy. She worked on the restoration of part of the film archives of Panama at the Filmoteca de Catalunya and created the "Festival de la Memoria," a performance installation with political archive. She directed Panquiaco, her first feature film which premiered at the International Film Festival of Rotterdam. Her last film A Love Song in Spanish was in official competition at the Berlinale and at MoMA.
Credits
Sound: Médéric Corroyer
3D: Guangli LIU
Artificial Intelligence: In vitro art lab Xing & Xiyue