Panel Discussion with Q&A
DOORS – Digital Incubator for Museums, initiated by Ars Electronica as MUSEUM BOOSTER and Ecsite, gives small and medium-sized museums across Europe the opportunity to drive the digital and sustainable transformation of the museum sector.
In addition to the challenges and opportunities that digitization offers to museums in this context, this roundtable will examine possible digitization strategies in terms of their environmental, economic and social impact. Experts and actors from the cultural and creative industries will engage in a dialogue to broaden mutual understanding of what steps are possible, necessary and desirable in those very areas of museum digitization. Attention will also be paid to the role of the cultural sector, and cultural institutions in particular, in pointing the way to a more equitable and sustainable future.
In the shadow of a climate and ecological emergency that affects all areas of social, political and economic life, the purpose and scope of action of museums and cultural institutions more generally must (again) be questioned. How can museums reposition themselves in an age of climate change? Can museums inspire action on planetary crises. Can museums inspire action on planetary crises, and can museal institutions be reimagined for a more diverse, intersectional publics?
Chair:
Olga Tykhonova (UA/AT)
Speakers:
Michael John Gorman (IE)
Merete Sanderhoff (DK)
David Vuillaume (CH/DE)
Johanna Eiramo (FI)
Lauren Vargas (US/NL)
Biographies
Johanna Eiramo (FI), is the Director of the Digital Finnish National Gallery Program. She tries to find ways to use the 98% of our art that is not on display in museums to create content for the benefit of art lovers.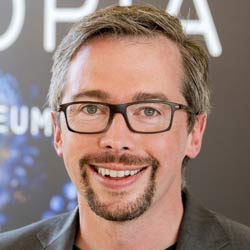 Michael John Gorman (IE) is the Founding Director of Biotopia, the new museum and platform for life sciences and environment in development in Munich. He previously founded Science Gallery, as a global creative platform connecting science and the arts. He has worked at MIT, Harvard and as Lecturer in Science, Technology and Society and Stanford University, and now holds the Chair in Life Sciences in Society at Ludwig-Maximilians-University Munich. He has written books on topics ranging from Buckminster Fuller´s designs to the natural philosophy of Athanasius Kircher, and recently published the monograph Idea Colliders: The Future of Science Museums with MIT Press in 2020.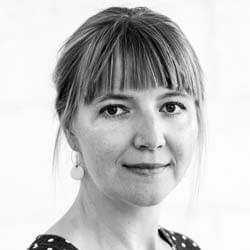 Merete Sanderhoff (DK) holds an MA in Art History. She is a curator and senior advisor of digital museum practice at SMK, being responsible for the museum's open access policy and working to foster active re-use of the museum's digitised collections for research, learning, knowledge sharing, and creativity. She has published substantial research in the area of digital museum practice and has set the agenda for openness in the global GLAM community with the Sharing is Caring conferences since 2011. In 2017-18, she was the chair of the Europeana Network Association, and she is currently a member of Europeana Foundation's Advisory Board.
Olga Tykhonova (UA) is the Head of Strategic Development at MUSEUM BOOSTER, a Vienna-based research & consultancy company with a focus on the strategic advancement of museums and cultural institutions through digital transformation and organisational innovation. Olga combines research and hands-on practice when designing long-term multi-constituent programmes aimed at ecosystemic advancement of museums. Currently she is a research curator of the Future Museum practice-based research project, contributor to the Museum Innovation Barometer and is designing incubation programme for the DOORS: Digital Incubator for Museums project (European Union's Horizon 2020 research and innovation programme). Trained as an art-historian (CUNY, NYC), her long-term research focuses on art institutions as a medium and artistic forms of knowledge production. Former Fulbright scholar and Edmund S. Muskie Fellow.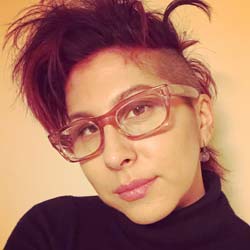 By day, Lauren 'L' Vargas (US) is a digital dragon wrangler with 20 years' experience assisting organizations with their community, communication, and collaboration strategies. Vargas is the principal of Your Digital Tattoo and operates at the intersection of community and technology. She uses her research and consulting practice to further meaningful connection, purposeful inclusion, and digital civility.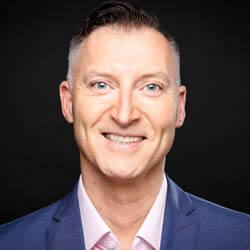 David Vuillaume (CH/DE) is Chair of the Network of European Museum Organisations (NEMO) and Director of the German Museums Association. David Vuillaume has been director of the German Museums Association since 2017. Prior to this, he was head of the joint office of the Swiss Museums Association and ICOM Switzerland (International Council of Museums) for 11 years. He has been chairing the Network of European Museum Organisations (NEMO) since 2014 and a board member since 2012. He studied art history, museology and business administration, and gained extensive experience in network management at various museums and institutions. Additionally, David Vuillaume represents the museum sector in the German Cultural Council and is vice president of the Swiss National Centre for Cultural Heritage.
Credits
Funded through the DOORS project. DOORS – Digital Incubator for Museums has received funding from the European Union's Horizon 2020 research and innovation program under grant agreement No 101036071.