Talk
Communities like those of the the low-lying Majōl (Republic of Marshall Islands), a sprawling chain of islands and islets in the Pacific Ocean, are at the frontlines of climate change. They are at risk of losing everything including their very way of life – to a crisis they did not create.
For the young climate warrior Selina Neirok Leem, climate change is not a distant threat to be negotiated over decades-long timelines. It is the reality of imminent threat to her home, friends, family and future.
By ways of a stirring poem and talk, Seline Neirok Leem explains why she refuses to give up the fight against climate injustice "We've been told to move. To become climate change refugees," she says. "I'm not even sure who would even take us in. But to those who think that we should just accept our fate, I want to say: adaptation and indigenous knowledge are the solutions."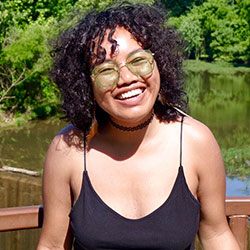 Selina N. Leem (MH), is a climate warrior and a poet from the large ocean nation of Aelōn̄ Kein Ad, the Marshall Islands. Crediting her late grandfather for her deep awareness of the fate of her home, she has made it her mission to globally raise awareness on the climate crisis. Representing the Marshall Islands at the age of 18, Leem was the youngest delegate at the COP21 (the 2015 UN Climate Change Conference in Paris). Alongside then Marshall Islands Foreign Minister Tony deBrum, they delivered the closing statement for their country. Leem went on to many other global stages to speak on behalf of her people, using storytelling and spoken word. Most recently, becoming a TED speaker at the 2021 TED Countdown Summit.
S+T+ARTS Day is supported by the European Project Repairing the Present which has received funding from the European Commission's Directorate-General for Communications Networks, Content and Technology under grant agreement LC01641664.