Panel Discussion with Q&A
What potentials do open practices, craft, and community knowledge have, to imagine different climate futures? How can the open movement with its values, communities and action support the creation of these futures? And how do we actively build a sustainable and just Internet for all? Though the current crises are urgent, we acknowledge the solutions may be slow: there is much to unlearn, to reimagine, to regenerate, to build and debate together. And there is the need to uplift community practices and careful technology that support ecological sustainability and our collective liberation.
Branch is an online magazine dedicated to people who dream about a sustainable and just Internet. In this conversation, we both imagine the climate futures we want, and highlight.
Chair:
Babitha George (IN)
Speakers:
Camila Nobrega (BR/DE)
Luis Felipe Rosado Murillo (BR)
Shannon Dosemagen (US)
Persephone Lewis (US)
Biographies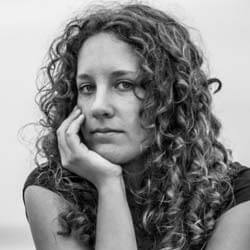 Shannon Dosemagen (US)directs the Open Environmental Data Project (OEDP). OEDP focuses on building spaces to grow the global conversation on open environmental and climate data access and use. Previously, she co-founded and served for a decade as Executive Director of Public Lab, a community that uses open approaches to support people in asking and answering environmental questions. Dosemagen is a co-founder, and current board member, of the Gathering for Open Science Hardware and a founding collaborator in the Open Climate community. For her work, she has been awarded Fellowships with the Shuttleworth and Claneil Foundations, Ashoka, and at the Berkman Klein Center for Internet and Society, Harvard University.
Babitha George (IN) is a partner at Quicksand where she works on design research in developmental contexts, steering several of the organisation's social innovation projects. She is one of the co-founders of the UnBox Festival, leading on networks and collaborations bringing together efforts around social change, art and culture, thoughtful design and open research. Babitha is also on the Advisory Board of the Victor Papanek Foundation and was featured in the British Council's 'Blurring the Lines' exhibition in London, as one of sixteen people from around the world who are reinventing creative exploration and participation in their communities. She is a member of the Mozilla Foundation's first cohort of "Network50" for outstanding work in Internet health.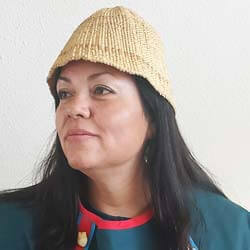 Perse(phone) Hooper Lewis (US) is the Honouring Our Guardians Coordinator at Whose Knowledge?. Perse is a citizen of the Yomba Shoshone Tribe, located in the mountains of present-day Nevada. Deeply committed to Indigenous activism, tribal sovereignty, and Nation-building, she is a community-based consultant, educator, relative, and Newe language learner.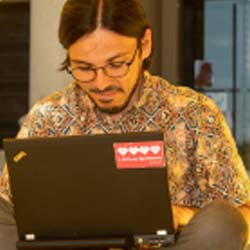 Luis Felipe Rosado Murillo (BR) is assistant professor in Anthropology at University of Notre Dame. His work is dedicated to the study of computing cultures. Moreover, he is a data scientist, does free and open software research and works for the Arctic Research Center as well as the Berkman Center for Internet and Society at Harvard Uni.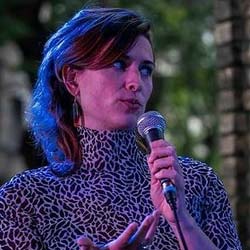 Camila Nobrega (BR/DE): Journalist and researcher, fostering feminist lenses to investigate social-environmental conflicts. Based between Brazil and Germany. Camila Nobrega is a Ph.D Candidate at the Gender Division in the Political Science department at the Free University of Berlin. Founder of the project Beyond the Green.
Credits
The panel is curated in cooperation with Open Climate and Quicksand India.