Notre Dame has been described as the soul of Paris. As a result of the tragic fire in 2019, its bells have fallen silent. However, these bells were not damaged in the fire and are silently waiting and secretly "listening" to the sounds of Paris around Notre Dame.
This is a continuous live streaming sound sculpture that makes audible the simple physical fact that these bells are secretly ringing all the time. I think of this secret ringing as being the heartbeat of Notre Dame. The sounds that the bells produce are created by their harmonic response to the ambient sounds of Paris that surround Notre Dame, as revealed by a live network of accelerometers mounted and live streaming from all ten of the bells. The physical fact that these bells are harmonically excited by the ambient sounds of Paris is a phenomenon that this artwork makes public in a way that will not only be beautiful to hear but will have a healing relevance to Notre Dame's fire, a healing relevance to the suspended sense of time created by the Corona Virus, the tragic war in the Ukraine and the ongoing environmental threat of climate change.
Biography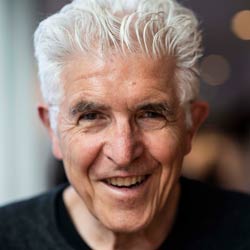 Bill Fontana: Born in 1947, Bill Fontana is a media artist who has developed an international reputation for his pioneering experiments in sound. Since the early 70s, Fontana has used sound as a sculptural medium to interact with and transform our perceptions of visual and architectural spaces. He has realized sound sculptures and radio projects for museums and broadcast organizations around the world. His work has been exhibited at the Whitney Museum of American Art; the San Francisco Museum of Modern Art; the Museum Ludwig, Cologne; the Post Museum in Frankfurt; the Art History and Natural History Museums in Vienna; the Tate Modern and Tate Britain, London; the 48th Venice Biennale; the 2018 Venice Architecture Biennale, the National Gallery of Victoria, Melbourne; the Art Gallery of New South Wales, Sydney; MAXXI, Rome; MAAT, Lisbon; the Kunsthaus Graz and ARTER in Istanbul. He is currently exhibiting Silent Echoes Notre Dame at the Centre Pompidou in Paris.
Credits
Bill Fontana Studio in co-production with IRCAM and Centre Pompidou; in partnership with the official public establishment responsible for the conservation and restoration of Notre-Dame de Paris Cathedral; With the support of Hottinger Bruel & Kjaer, the Friends of Notre Dame and the ORANGE GROUP