Ars Electronica Festival, Linz, Austria, September 6 – 10, 2023
Art and its interplay with society and technology, has remained the central focus of Ars Electronica since its inception in 1979. Whether it's through expansive exhibitions, unique events, captivating concerts, or inspiring lectures, we invite you to explore the remarkable projects featured in this year's festival, meet the creative minds behind them and take a piece of their passion and imagination home with you!
Check out the Prix Ars Electronica Exhibition…
Every year, the Prix Ars Electronica spotlights media artworks from all over the world and serves as a trend barometer offering inspiring, current, and forward-looking insights. The Prix Ars Electronica Exhibition shows selected artworks from the categories New Animation Art, Digital Musics & Sound Art and Artificial Intelligence & Life Art.
Oron Catts (AU), Ionat Zurr (AU), Steve Berrick (AU)

Sunlight, Soil & Shit (De)Cycle-3SDC project is a durational performative experiment dealing with contestable food system futures.
…and meet the Award-Winning Artists!
The Prix Forum on Sunday brings together artists who have received the Golden Nica and Awards of Distinction in their respective categories for an artist talk and discussion of their works.
Join Events, Concerts and Performances!
Experience the Ars Electronica in extraordinary concerts and performances at unusual venues: from classical music to experimental Nightline-programs in POSTCITY's abandoned train hall.
This year's return of the festival to POSTCITY also marks the comeback of the Nightline: Following the classical sounds of the Bruckner Orchestra, the Gleishalle will become a musical playground for electronic audio-visual artists and their sound experiments like Jessiquoi, Noémi Büchi, Soraya Lutangu aka Bonaventure, Myriam Bleau and Kenji Araki.

Ars Electronica Futurelab (AT)

On Saturday Night, the Ars Electronica Center's Deep Space 8K will once again be filled with an electrifying atmosphere created by the Futurelab Night Performances. Visitors can enjoy a wide range of experiences circling around visualized sound, sonified biodata, and experimental live visualizations.

Sonic Lab, ABPU

Dive deep into freshly made immersive electronic music with the 20.4 system of the Sonic Lab. This is a concert designed to perceive spatial music selected from the call for contributions that relates to Manufacturing Audible Truth. The program shows a variety of styles of multichannel music from around the world.

Luc Gut (CH), Rolf Hellat (CH)

OSZILOT is a hybrid of sound installation and performance. Everyday objects suspended from strings are transformed into oscillating sound objects via movement sensors.

Maki Namekawa (JP/AT), Cori O'Lan (AT)

Fully dedicated to the quest for authenticity in artistic creation, this year's festival's closing concert presents Maki Namekawa performing the legendary Köln Concert by Keith Jarrett, accompanied by realtime visualizations by Cori O'Lan.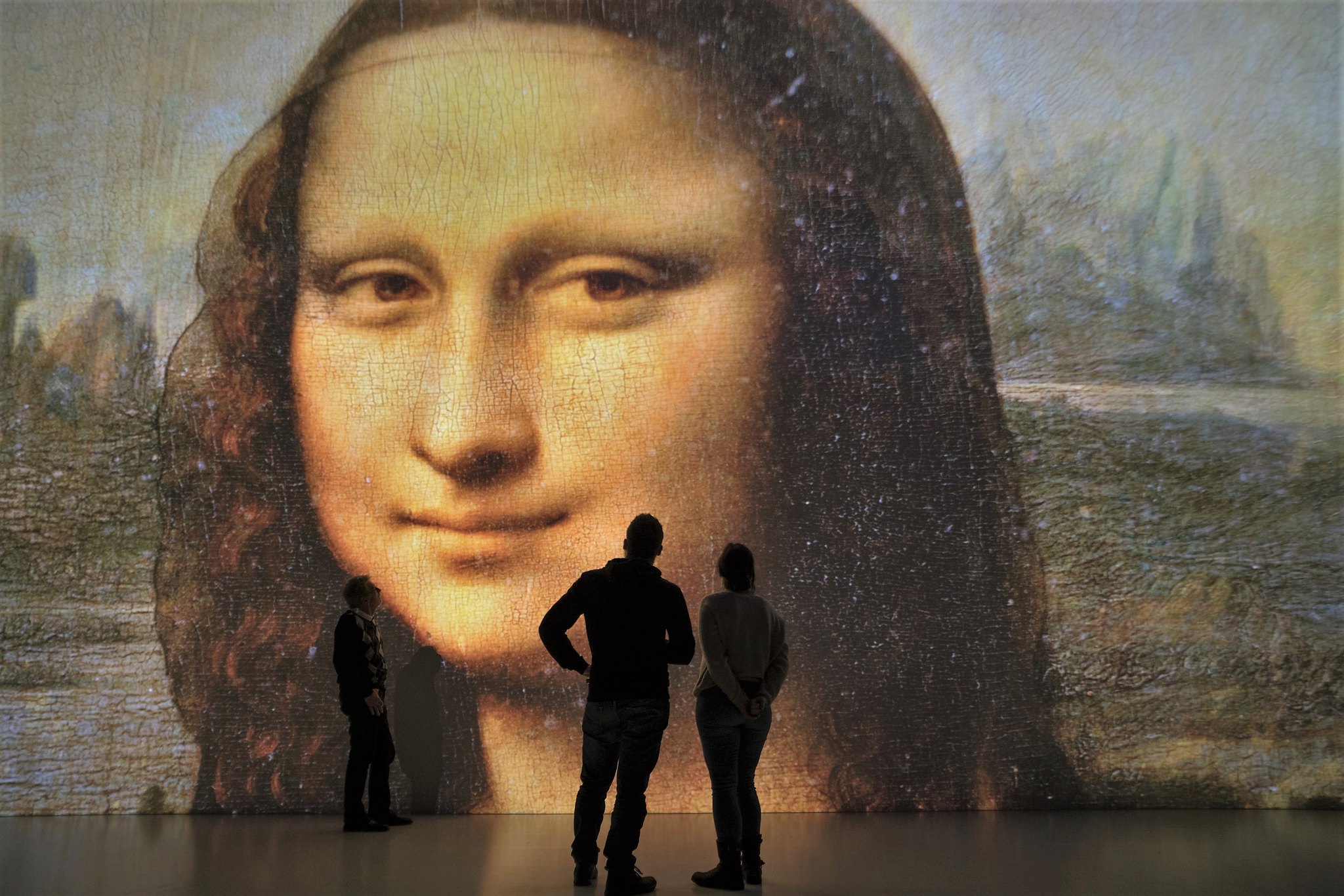 Immerse yourself in the Deep Space 8K!
Stunning visuals, exciting stories and immersive experiences, combined with impressive image quality, color brilliance and 3D stereo: The Ars Electronica Center's Deep Space 8K takes you on a journey from Francisco de Goya to Asia's contemporary media art!
Hyundai Motor Group

Established in 2016 by Hyundai Motor Group, the VH AWARD is Asia's premier award platform, committed to identifying and nurturing emerging artists in Asia who actively explore the intricacies of Asia and its future.

Olga Sevillano Pintado (ES), Raúl Martínez Arranz (ES), Museo Reina Sofía

Two artists separated by almost thirty years had a major shift in their careers before they turned twenty. However, being a male or a female artist at that time had huge implications. One of them became the most famous artist of the century while the other was forgotten for most of that same time period.…

Marc-André Cossette (CA), Alexandre Saunier (FR), Carlotta Borcherding (DE), Gerald Peter (AT)

A carefully curated evening program full of inspiring and stunning audio-visuals by international artists.

Erick Aguirre (MX), Kevin Blackistone (US), Jiaji Cheng (CN), Danica Golić (RS), Kathrine Hardman (US), Eunji Ji (KR), Polina Kliuchnikova (RU), Kateryna Pomeichuk (UA), Yuma Yanagisawa (JP), Razieh Kooshki (IR), Vahid Qaderi (IR)

A carefully curated evening program full of inspiring and stunning audio-visuals by international artists.

Susanne Kiesenhofer (AT), Anna Oelsch (DE/AT), Daniel Rammer (AT)

Deep Sync creates an interactive playground for sound and visuals in the immersive Deep Space 8K environment, inviting visitors to experiment with the correlation between psychological and physiological processes.

Salzburger Festspiele (AT), Ars Electronica Futurelab (AT), Ars Electronica Festival (AT)

In 2023, the the Salzburg Festival commemorates director and festival co-founder Max Reinhardt by recalling Goethe's Faust (1933-1937). Wearing VR goggles, visitors to the exhibition "FAUST 2023 – Enchanting Reality of Theatre", enter a reconstruction of the unique stage design and play recreated by Ars Electronica Futurelab.

Alejandro Vergara (ES), Javier Pantoja Ferrari (ES), Museo Nacional del Prado

In Goya's Truth, highly regarded expert and senior curator Alejandro Vergara from Museo del Prado shows a carefully selected choice of Francisco de Goya's works in ultra-high resolution.

Franz Fischnaller (IT)

In LSI attention is given to location awareness, cognitive processes in audio-visual perception and emotional engagement to let visitors feel as if they were present "inside" the painting and within reach tangibly of its historical context. Further, the visitor can penetrate the painted wall surface and be virtually transported into a 3D depiction.

Miwa Matreyek (Golden Nica for Computer Animation 2020) will be presenting a shortened documentation video of her 2020 performance work, Infinitely Yours. She creates live performances integrating her kaleidoscopic animations with her body in shadow from behind the screen.

GLITCHBODIES (Honorary Mention for New Animation Art 2023) is an interactive game and multiplatform project encompassing new forms of feminism, LGBTQ+ and Drag transformations. While playing the game, participants become part of an interactive digital space.

Grand Palais Immersif, Iconem, Fondazione Musei Civici di Venezia

What city enjoys such universal celebrity as Venice, an unparalleled unicum of history, art and tradition? The exhibition Venice Revealed aims to help visitors discover and experience the mystery of this city in a new way.
Check out our Exhibitions at several Locations throughout Linz!
Meander trough the expansive halls of POSTCITY and explore the S+T+ARTS Prize Exhibition, highlighting projects at the intersection of science, technology and arts, the State of the ART(ist) exhibition, showcasing projects by artists who work under existential threat, or the Theme Exhibition around this year's festival topic '(Co)Owning More-than-Truth'. Visit the University of Arts Linz and discover the Campus Exhibition with contributions from 56 international universities or marvel at Latin American Art at the Lentos Kunstmuseum.
Richard Mosse (IE)

Broken Spectre is a disquieting portrait of willful environmental catastrophe along the Trans-Amazonian Highway told through a kaleidoscope of scientific, cultural, historic, socio-political, activist, and anthropological filters.

Dorota Gawęda (PL/CH), Eglė Kulbokaitė (LT/CH)

BROOD (The Second Body) hopes to trace possibilities of being both—self and other, dispersed and situated seeking to trace the self that is also a brood, looking to find moments when identities blend; the body proves to be not a boundary to be contained but porous, with its leaks and spills connecting to the world.

Kira Xonorika (PY)

This project explores futurism through centering multidimensional ecologies in conjunction with trans and Indigenous epistemologies. It aims to resist the homogenizing tendencies of AI systems and cultural amalgamation perpetuated through colonialism by constellating multimodality and magic.

Rosemberg Sandoval (CO)

The artist's room in Bahareque is a metaphorical recreation of the artist's private space, which represents his own creative universe, but most importantly, it is a processual homage to Colombia's intricate economical and racial fabric and its diverse underlying socio-historical problems.

Taipei National University of the Arts (TW)

When we look at our planet from the geological perspective of the Anthropocene, we see it as an ecosystem shaped by human activity, in which the layers of existence are closely interconnected and subject to vibrations. Epicentrum, an exhibition of electronics, reveals how organic and inorganic matter are interwoven and set in motion.

Samira Benini Allaouat (IT)

Geo-Llum aims to reimagine the role of public lighting in green urban areas with a symbiotic relationship between the artificial and the natural world, focusing on a deeper understanding of microorganism community such as fundamental collaborators in the city ecosystem.

Mahsa Aleph (IR)

I am the aggregate of all words spoken to me. Ibn ʿArabi The word "jowhar" has several meanings in the Persian language: ink, essence, gem, nucleus, origin. The sentence on the paper scrolls is taken from a note in my notebook written in 2013. Translation: Future is merely a part of the past which has…

Mozarteum University (AT)

What do you see when you're listening? Spot on MozART is an inter-university, interdisciplinary project devoted to visual research into how we listen, and thus to a (new) understanding of the music of Wolfgang Amadeus Mozart in the 21st century.

Alba Triana (CO)

Vibrant Self examines the link between nature's fundamental structure and the individuals' environment, sociocultural context and personal construct, manifested as mood, action, meaning, agenda and ideology. Interacting visitors listen to a sound archive inducing reactions captured by a BCI. This data is transformed into soundwaves that visually unveil their brainwaves and muscular responses using a…

Ma Ei (MM)

The recent coup in our country has caused significant disruption to our democracy, leaving many citizens in distress. Our situation is dire and we cannot achieve a peaceful resolution alone. I do not dare to expect basic human rights and equality from the world where there is not a single place to sleep peacefully at…