The Party Game with our Future
The premise is simple: Players take turns asking one another truth or dare?. If they choose "truth", they have to answer a—possibly unpleasant—question. If the choice is "dare", they must do a specific task instead of making a confession.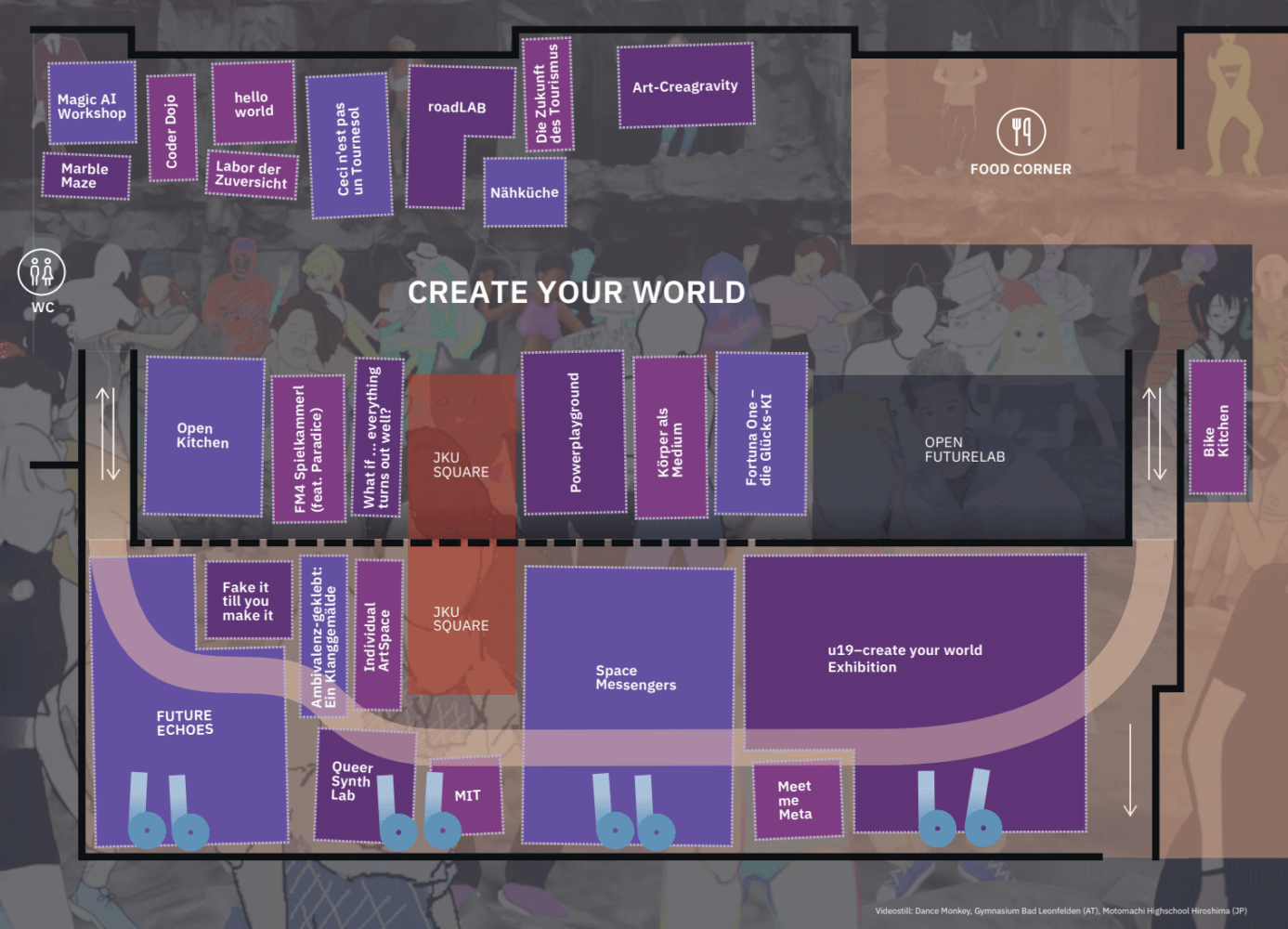 The more the climate crisis progresses, the more inflation, economic crises and wars come to a head, and the more dystopian the scenarios for the future are painted, the stronger the impression that there is a big party game going on. Depending on their mood or their own advantage, decisionmakers keep postponing important decisions—perhaps they lack the courage or the willingness to consider all the consequences and to answer the relevant questions truthfully. This leads to postponements—one prefers to accept measures that may be unpleasant for a short time, but do not have to admit the truth so completely.
The truth is: We have to do something. Now. And that is at the same time our duty (if we dare).
The create your world festival takes more and more this civil society role—it invites to think together about new ideas and actions, which goals of peaceful protests can and should pursue.
At the same time, the create your world festival will again offer a colorful platform for educators, young people and interested tinkerers. An artistic future fair that enables new ideas and inspirations.
Reconciling dystopia and utopia seems to be the most beautiful and at the same time most difficult challenge here: How can we together define and achieve a clear goal while taking advantage of the thoroughly positive development of technologies, research and human ingenuity?
So, we are playing truth and dare. Defining the truth seems to be the biggest dare at the moment.
Vincent Adali (AT), Kaja Weichselbaumer (AT)

Glue – interpreted as something that connects, sticks together as long as possible, repairs what is broken and revitalizes what is broken. The project Ambivalence, Glued uses a screen and headphones to examine the theme of glue as social cohesion.
Events
A collaboration between Ars Electronica and OeAD, curated by Sirikit Amann (AT)

A collaboration between Ars Electronica and OeAD, curated by Sirikit Amann (AT). Like every year, the work of talented filmmakers up to the age of nineteen is celebrated in the category Young Animation. The program is a selection of short films created by young artists across Austria.

Ars Electronica (AT)

This Award Ceremony brings together all the winners of this year's Prix Ars Electronica u19-create your world category. Not only will the young winners' projects be presented and they will receive their prizes, but they will also be able to share their own enthusiasm in short interviews.

OeAD (AT), BMBWF (AT) and Ars Electronica (AT)

A contemporary education system should teach young people how to actively shape their lives and learning in a digitalized world in a sustainable way. Progressive digitalization in turn creates new opportunities to create, test and implement suitable forms of teaching for this purpose.

Konzept: Martina Sochor (AT), Elke Hackl (AT), Josef Buchner (AT/CH), Hans-Christian Merten (AT); Teilnehmer*innen: Katharina Hof (AT), Ian Banerjee (AT/IN), Artist Meditaçoes (AT), Martin Bauer (AT), Sonja Hinteregger-Euller (AT), Jan G. Grünwald (DE/AT), Sebastian Paar (AT), Conny Lee (AT), Elke Hackl (AT)

The pedagogical year 2022/23 was dominated by one topic: digital basic education. The subject, which is now compulsory at a lower secondary level, was implemented, schools were equipped with tablets, and teachers already teaching the subject were provided with the necessary knowledge and skills in a four-semester university course.

Open Commons Linz (AT), Ars Electronica create your world (AT)

The Hebocon is back! Build and design your own low-tech robots and send them into the arena. It is not primarily about strength or speed, but rather about the most creative creations, the most unusual movement style and the funniest motto.

Arbeiterkammer OÖ (AT), Pädagogische Hochschule OÖ (AT), Ars Electronica (AT)

At this year's symposium on Political Education, the complex distribution of responsibilities in the areas of climate policy developments, digital education and new social participation structures will be addressed, discussed and examined from different perspectives.